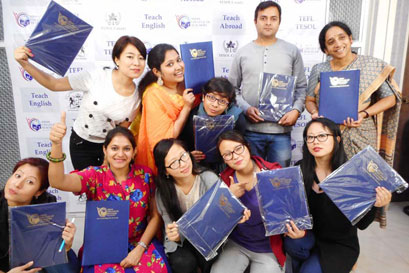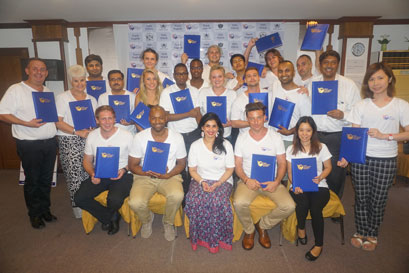 The online Master of Arts in Education with Leadership and Administration, offered by ACT affiliated to EIU-Paris, is an especially designed and detailed course aimed at developing and boosting the administrative skills of teachers willing to foray beyond their domain specific and embrace more significant roles. Those taking MA in Education with Leadership and Administration course will be certified by the European International University (EIU-Paris) and covers duration of up to 1.5 years to complete.
Master of Arts in Education with
Leadership and Administration and Career Opportunities
Master of Arts in Education with Leadership and Administration is the ideal course for those who are willing to explore concepts and issues required for effective leadership in a variety of educational contexts. It will introduce you to models of leadership and help you to critically examine these in the light of theory and practice.

The MA in Education with Leadership and Administration is designed in such a manner that will provide you with opportunities to explore the best practices of educational admistration and how models of coaching and mentoring might contribute to an understanding of effective leadership.
The course can be pursued by anyone interested in the administrative division of educational institutions
It is apt for teachers willing to switch over from teaching to administrative job
Ideal for principals and institutional heads looking for upgradation in their administrative skills
Senior teachers, administrators and educationists looking for a career in this field abroad
Graduates with a Master's degree in Education with administration and Leadership can choose from a wide variety of administrative positions in educational institutes. The course will develop the management, leadership and administrative skills and knowledge you need to become an educational leader.
Course
& Fee
2750 USD – If Paying from USA or paying in USD
2400 GBP – If Paying from UK or EU
93000 Thai Baht – If Paying in Asia
200,000 INR– If Paying in India
Course
Curriculum
Foundation (10 credits)

1. Psychology and Characteristics of Learners
2. Conducting Accurate Internet Research

Core (30 credits)

1. Developing, Planning & Designing learning Environment
2. Digital literacy – 21st Century Classroom
3. Assessment & Evaluation in Education
4. Instructional Strategies
5. Behavioral Management – Social and Emotional Competence of Learners
6. Introduction to Education Research

Specializations (20 credits)

1. Organization and Administration in Higher Education
2. Human Resource Management and Finance in Education
3. Leadership Theory Practice and Change Management
4. Self-Management and Planning in Education

Capstone Project (30 credits) - Choose 1

1. Prepare a paper on any one topic of by attending a one live online webinar from ACT – 5000 words
2. Attend any seminar in Education in your region and create a reflective paper on the same – 5000 words
3. Research Paper – Education Leadership – 5000 words
Certification
Details
The Master's degree will be awarded by The European International University (EIU– Paris).

Students will also receive a Certificate of Course Completion from Asian College of Teachers (ACT).

European International University is a private higher education establishment authorized by the French Ministry of National Education, Higher Education, Research, and Innovation, in accordance to and in compliance with the French Education Act: Code de l'Education Articles L 444-1 to 444-11 and R 444-1 to 444-28.
Course Delivery
& Assessment
Master of Arts in Education with Leadership and Administration course is available in online mode and can be accessed from anywhere around the world. Since this course is designed and aimed at working professionals, it is not viable to have an on-site program for which very few working professionals would be available. The entire course is available online and people can enrol in the course from anywhere just with a laptop and an internet connection.

One can start with the MA in Education with Leadership and Administration program as soon as the payment is made. Each candidate is provided with a unique username and password and web addresses. By logging in with the information provided, a candidate gets access to all the study materials online. Since the entire studying is done online, the course is supported by plenty of videos of classroom teaching. ACT provides 100% tutor support throughout the course to guide the candidates complete their course.
The course is divided in 4 parts:

Part One – Foundation Course which comprises of 10 credits and 2 Subject
Part Two – Core Program comes with 30 credits and 6 Subjects
Part Three – Specialization of Subjects comes with 20 credits divided into 4 Specialized subjects
Part Four – Capstone Project which is a reflective research work comprises of 30 credits
To receive a degree in the program of study the student must achieve the following:
Complete and successfully pass Foundation, Core, Specialization and Capstone Project as prescribed in the programme specification.
Obtain a mark of 50% and above to satisfactorily pass each subject as the Capstone Project.
Complete the full program of study in minimum duration of 12 months, and a maximum duration of up to 24 months. However, those unable to complete the program within the stipulated time will be given a grace period of 1 year and the student would be required to pay a maintenance bench fee to finish his/her degree within that grace period.
Students can attend 6 Live Online Webinar Sessions during the year and use one of that as a Capstone Project to complete a reflective paper