Nandimandalam Swetha Kuldip
Earlier Organisation:

RR Enterprises as Resource coordinator - Ace vision publications
Qualification:

PG Diploma in Educational Administration
Current Location:

Chennai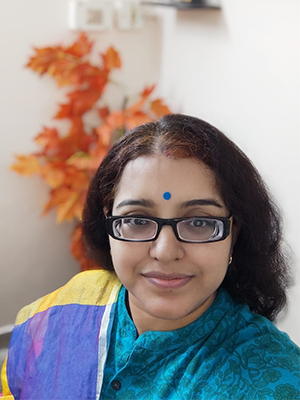 Nandimandalam has been treading in the field of teaching and education for nearly twenty years, and she has had quite a journey to eventually secure a successful teaching career. Importantly, Nandimandalam always had a passion for teaching, and she consistently pursued her passion by starting off as a teacher.
After gaining adequate years of teaching experience, wherein she primarily taught biology to students of grades 8, 9, and 10 for six years, she then sought the possibility of being involved in education management. Nandimandalam moved to Guwahati and then completed a course in Montessori teaching. Following that, she applied for the role of a centre head in a pre-school, and maintained that post for almost 2 years.
The multiple transfers associated with Nandimandalam's husband's job meant that she could travel from Bangalore to Guwahati, and then further travel around Assam, performing teaching and training workshops for students, teachers and parents.
She was last working as a resource coordinator in Ace Publications, following which she decided to enrol in ACT's PGDiploma in Education Management program in order to expand her scopes in educational management and leadership. Nandimandalam recently moved to Chennai, but was unable to continue working as the lockdown measures were implemented early in the year.
Nevertheless, Nandimandalam is still eager to explore the opportunities available following the completion of her P G Diploma in Education Management program with ACT. ACT wishes her all the best for her education management career.
Moon Ray
Designation:

TEACHER (Sociology)
Institute:

SOUTH POINT HIGH SCHOOL, Kolkata, India
Course:

Post Graduate Diploma in Educational Leadership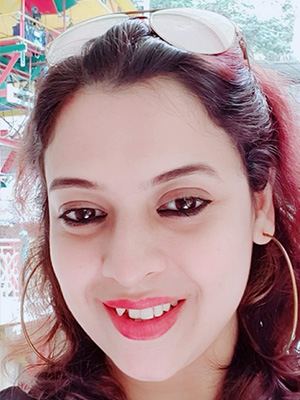 Moon Ray has always had a love for sociology, and she decided to pursue her interests by enrolling in a bachelor's followed by a master's degree in sociology. Throughout her degrees, she was exposed to the different dynamics of how realities function, which inevitably piqued her interests.
After completing her degree, she aimed to teach in a college, but was unable to do so as she had to take care of her two babies, and moving around was thus challenging. Nevertheless, she applied for a teaching position in St. Lawrence, and then moved to South Point High School, wherein she has been teaching for the last 3-4 years.
During her tenure at South Point High School, Moon has always, and still prioritises experiential learning as she wants her students to comprehend how society really works, beyond the content covered in the textbooks. In order to do so, she conducts workshops on how to help former prisoners in learning and stepping back into the society.
As well as her brilliant teaching insights, Moon has also authored 4 books, one of which is the primary book on sociology that is used by the students of the West Bengal board. Irrespective of her massive accomplishments, Moon is keen to gather more skills and knowledge about the methodologies to lead classrooms and enhance learning. This encouraged her to opt for ACT's course on educational leadership.
In fact, Moon is a very committed and passionate individual because not only is she working hard to hone her teaching skills, she also runs a new restaurant, and operates a franchise of the French Loaf bakery. A hard working and focused soul like that of Moon's certainly necessitates all the good luck and warmth from ACT's end.
Kenneth Benjamin
Course:

Educational Administration and Management
Place:

Christ The King College Jhansi
Designation:

Economics/ Commerce Teacher

Kenneth Benjamin, a resident of Jhansi who has completed his M.Com. with B.Ed. was looking to take a leap in his career as he is interested in administrative jobs. Benjamin is in the field of teaching ISC level classes in Jhansi for the past 21 years. He has also been a Lecturer of Economics and Commerce and has been looking for an upgrade in his career by pursuing a course in Educational Administration and Management.
So, after searching the best colleges in Asia on the internet, he got to know about ACT and got enrolled in the Educational Administration and Management course. He had also taken up this course earlier at a reputed institute in Pune but was unable to continue as the nearest examination centre was in Gwalior and it was not possible for him to travel there frequently.
He is highly content after pursuing the course from ACT and is looking for greater opportunities to come his way. The course has been of immense help and has successfully shaped his thoughts on many concepts related to the field of educational management. He is elated to share that he has been honored by the management of the institution he works for, on the occasion of Teachers Day.
Gunjan Chhetri
Course:

P G Diploma in Education Management
Working at:

Joseph Day School, Entally (Kolkata) as Teacher-in-charge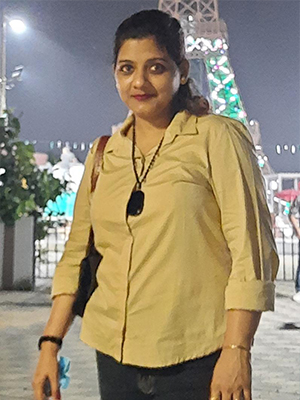 Gunjan Chhetri did her schooling from Loreto Convent, Entally and completed her college from Loreto College. She was always passionate about teaching and wanted to encourage children to chase their ambitions.
She opted for the education management course as she wanted to grow and evolve not only as a teacher but also as an individual and furthermore, she wanted to receive this training from Asian College of Teachers as she had heard that Asian College of Teachers not only grooms one as a teacher but also as an individual!
Currently, Gunjan is employed in Joseph Day School, Entally (Kolkata) as Teacher-in-charge. Earlier, she was a teacher in Kalpa High School in Hyderabad. According to Gunjan, there is no end to learning and adapting modern techniques specially to tackle the new generation of students. She believes education is dynamic and one should keep learning.
The course she pursued helped her a lot as she was able to apply it practically in her profession. It taught her various ways and methods to deal with parents in a school, the day to day challenges that teachers face in a school as well as dealing with parents from different backgrounds and having different mindsets.
Swarna Dutta
Course:

Certificate in Educational Administration and Management
Swarna Dutta, a housewife, aspires to teach primary school children. She did her schooling at Madhygram High School and graduated with honours in Bengali from Surendranath College and completed her Master's from Burdwan University.

Currently, she is pursuing the Nursery Teacher Training course and also wishes to do the Diploma course as she aspires to work in a school. Her interest in pursuing the Certificate in Educational Administration and Management course came from her passion to teach school children.

Currently, she has invested her time in home-schooling as most of the schools are shut down. She is also giving tuitions to children apart from guiding her son in his studies. She is eagerly waiting for the pandemic situation to get better so that she can look for jobs and fulfil her dream of teaching in a school.