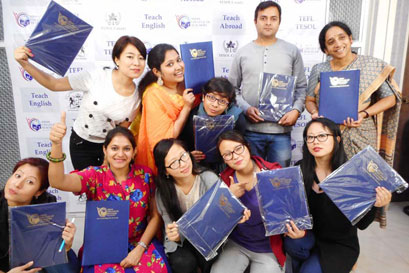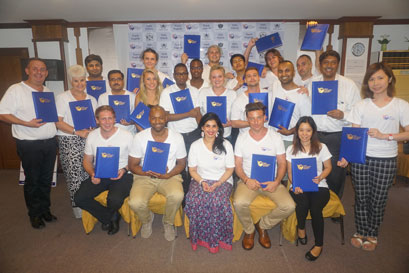 The online Professional Doctorate in Education offered by Asian College of Teachers (ACT) in academic collaboration with European International University (EIU-Paris), is one of the highest credentials in education which helps students combine their industry expertise and experience toconduct research and integrate and employ existing knowledge in unique ways to their professional fields. It is the highest qualification for experienced professionals comprising an array of professional doctorates which include:

1. Professional Doctorate in Curriculum and Instruction
2. Professional Doctorate in Education
3. Professional Doctorate in Education Administration & Leadership
4. Professional Doctorate in Educational Psychology
5. Professional Doctorate in Special Education
6. Professional Doctorate in Teaching
7. Professional Doctorate in Learning & Development
Admission to the Professional Doctorate is
open to students from all disciplines who possess the below qualifications
Recognized Bachelor's Degree or Master's Degree in any field or equivalent level
Life Experience 5+ years
English Level – IELTS Level 6.0 or equivalent
Disclaimer:ACT-EIU Professional Doctorate programs are coursework based and DIFFERENT from that offered by EIU-Paris PD, which is an Honorary Type Awards program.
Professional Doctorate in
Education and Career Opportunities
A Professional Doctorate recognizes your practical work experience and mastery of professional education-related areas including curriculum and instruction, education, educational administration, educational psychology, special education, teaching, etc. ACT-EIU Paris doctorate help our candidates primarily on applying the existing theories and knowledge to their areas of work to strengthen their professional practice and find the best opportunities in their chosen field around the world. But students pursuing their PhD degrees are different as they mostly focus on developing new ideas, perspectives, and theories that add to the body of knowledge in that field.
Online Professional Doctorate
vs. PhD Program
Which one should you opt for? It depends on your career aspirations
A PhD program from an online university will benefit you the most if you want to:
Pursue a traditional doctorate to produce a scholarly paper.
Expand their knowledge and expertise in a specific area.
Focus on academic research and publish research as an expert author.
Opportunity to work as a faculty teaching position in higher education.
Serve as a leader and expert within your organization.
An online professional Doctorate will be the right choice if you want to:
Deepen your understanding of the functional disciplines of your profession.
Participate in action research based on real-world issues related to your current work.
Provide practical solutions to current problems.
Serve as an authority and leader in your profession.
Promote positive change in your industry.
The career benefits of
pursuing a PD are:
It establishes the fact that one is keen on pursuing the highest professional excellence of learning and development in his/her field of work / career.
It serves to increase the professional competencies/expertise and confidence in the workplace
It positions one to be strategically placed in the job market by creating his/her unique competitive advantage.
It is a futuristic qualification that would keep you one step ahead of your contemporaries with such a groundbreaking qualification.
It would be indicative that one is progressive in his/her approach to personal and professional development and career advancement.
It is the qualification of the future – guaranteeing one a much better career prospects in this teach-savvy, ultra modern era of human evolution.
Course
& Fee
Here we present different payment options available. Payments can be made via Online Bank Transfer, Credit Card, PayPal or Cash at our Global Centres.
2750 USD – If Paying from USA or paying in USD
2400 GBP – If Paying from UK or EU
93,000 Thai Baht – If Paying in Asia
2,00,000 INR– If Paying in India
Fees include all: Tax, Program of study, LMS access, Study guide, Evaluation and Assessment, Diploma, Courier charges apply for Degree dispatch to your country. Certificate Notary and Apostille charges are separate from Paris. PDC is conferred by the European International University, (EIU-Paris). There is a bench fee applicable for each extension you request to complete the PDC program after 36 months.
Refund
Policy
Once students register for a course, they are responsible for dropping any course they decide not to attend.
Once you have enrolled in the program and you wish to immediately pull out and before any access has been granted - 50% of the tuition fee will be refunded
No refund for students who have received course access and have already started off with the program from ACT
Read all Terms and Conditions before making payments
Processing of refunds make take up to 3 months
Credit System
Academic Credit System (ACS)
ACT's Credit Framework
| Credit System | Credits |
| --- | --- |
| Total Credits for completion | 180 ECTS |
| Coursework 1 - Conducting Accurate Internet Research and Introduction to Research | 30 ECTS |
| Coursework 2 – Understanding Education as a Discipline | 30 ECTS |
| Dissertation (15,000 words Research) | 90 ECTS |
| Viva Voce (Thesis Defense) | 30 ECTS |
Disclaimer: Asian College of Teachers in collaboration with European International University, Paris offers Professional Doctorate which are coursework based and are DIFFERENT from that offered by EIU-Paris PD, which is an Honorary Type Awards program.
Certification
Details
All degrees will be awarded by The European International University (EIU– Paris).
Students will also receive a Letter of Completion from Asian College of Teachers (ACT).
European International University, Paris (EIU-PARIS) is a private higher education establishment authorized by the French Ministry of National Education, Higher Education, Research, and Innovation, in accordance to and in compliance with the French Education Act: Code de l'Education Articles L 444-1 to 444-11 and R 444-1 to 444-28.
Course Delivery
& Assessment
The Professional Doctorate in Education course is available in online mode for all our candidates around the world. Since this course is designed and aimed at working professionals, it is not viable to have an on-site program for which very few working professionals would be available. The entire course is available online and candidates can enrol in the course from any part of the world with an internet connection.

One can start with the Professional Doctorate in Education as soon as the payment is made. Each candidate is provided with a unique username and password and web addresses. By logging in with the information provided, a candidate gets access to all the study materials online. Since the entire studying is done online, the course is supported by plenty of videos of classroom teaching. ACT provides 100% tutor support throughout the course to guide the candidates complete their course.
ACT's Professional Doctorate involves the following stages:
Complete the Point Based Application form to check your eligibility
Coursework 1 - Conducting Accurate Internet Research and Introduction to Research*
Coursework 2 – Understanding Education as a Discipline* 
Complete a Research paper of 15,000 words
A live online defense in front of a panel
*Through the course work, an individual will become familiar with the theoretical problems relevant to their professional field and reflect on how they can integrate these into their own research project.

Complete the full program of study in a maximum duration of up to 3 years. However, those unable to complete the program within the stipulated time will be given a grace period of 2 years and the student would be required to pay a maintenance bench fee to finish his/her degree within that grace period.