Communication in schools flows smoothly among teachers, students, staff, and parents through school newsletters. Creating a school newsletter takes quite a reasonable amount of time because it contains various information. It is more like email marketing where everyone gets informed about any upcoming event, activity, product launch, exclusive interview, etc.
Why are newsletters important in schools?
Education administration has understood that a high-quality newsletter helps to streamline the daily schedule of parents, as well as, teachers. School newsletters can be published weekly, bi-weekly, or as the situation demands. It should be posted on a regular basis and school members should not step back in publishing newsletters twice a week if needed.
Learn more about the roles of a school leader:
Since newsletters provide every minute detail of information to everyone associated with the school, it becomes easier to conduct parent-teacher meetings. It is an excellent way to communicate with parents and inform them of the date of the meeting, the agenda of the meeting, the dress code if any, any documents if required, etc. Parental engagement has been excellent for channeling communication through school newsletters.
E-newsletters?
Keeping in mind the current status of the digital era, school administrators of educational institutions have added the school newsletter template within a school information management system. E-newsletters are serving the purpose in a better way because many times it has been observed that papers get wasted, tossed into the trash can, and ultimately turned out as a pile of unread substances.
The importance of newsletters is extremely important and school authorities are really emphasizing the e-newsletter format so as to keep everyone engaged. School administrators who have a postgraduate diploma in education management are successfully leading the school and are quite satisfied with the concept of e-newsletters. They are encouraging students and members responsible for creating templates for school newsletters to design innovative and theme-based templates and upload those to the school information management system.
Let's see how e-newsletters are beneficial:
Parents can have the access to read school newsletters in digital format 24*7.
School administrators instruct using software that won't seem complicated to users. Therefore, everyone can read newsletters on the portal, via e-mail, or can download the app if there are any.
Free templates are easily available. One can use the free version of Canva to get brilliant ideas for templates for school newsletters.
It saves a good quantity of paper and consequently, is eco-friendly.
Since e-newsletters are absolutely mobile-friendly, parents can read those anytime even while they're sitting on a bus or waiting for the train on the tube.

Let us show the sample of an e-newsletter.

Content ideas for school newsletters:
There can be anything put in the school newsletters that are happening under the sky. It can be regarding a climate issue, school event, upcoming festival, any interview, parent-teacher conferences, the world economy and how it is going to affect the coming days, and so on.
Let's get it straight, school newsletters are just like other newspapers that are available on both digital platforms and in the conventional paper method. There can be any news and we believe that school newsletters should not restrict themselves only to events or incidents happening within the school or surrounding the school.
Here people will come up with random weird questions about whether posting world news in school newsletters will have a good impact on students or not. Well, why not? Let's say students are preparing to participate in inter-school quiz competitions. Obviously, the quizmaster is not going to ask them questions that are related to their school only. Thus, having information beyond the school is necessary.
For example, news regarding the war between Ukraine and Russia or the 4th variant of Covid-19 is trending. Students must have knowledge of this stuff.
Newsletters can highlight the achievement and awards received by students. It can be scoring excellently in Maths Olympiad, recognition from a prestigious body, etc. It can be a 1st std student who has scored full marks in a subject. Remember, along with providing information, school newsletters aim at motivating students as well.
The school principal who has leading the school since ages can speak something on leadership principles. That is a fantastic idea for school newsletter content. Having a subject line like leadership itself is highly inspiring and can definitely motivate students to work on themselves to become a good leader. The school principal can also discuss problem-solving or decision-making ideas that will help students to be more confident of what they'll be choosing further.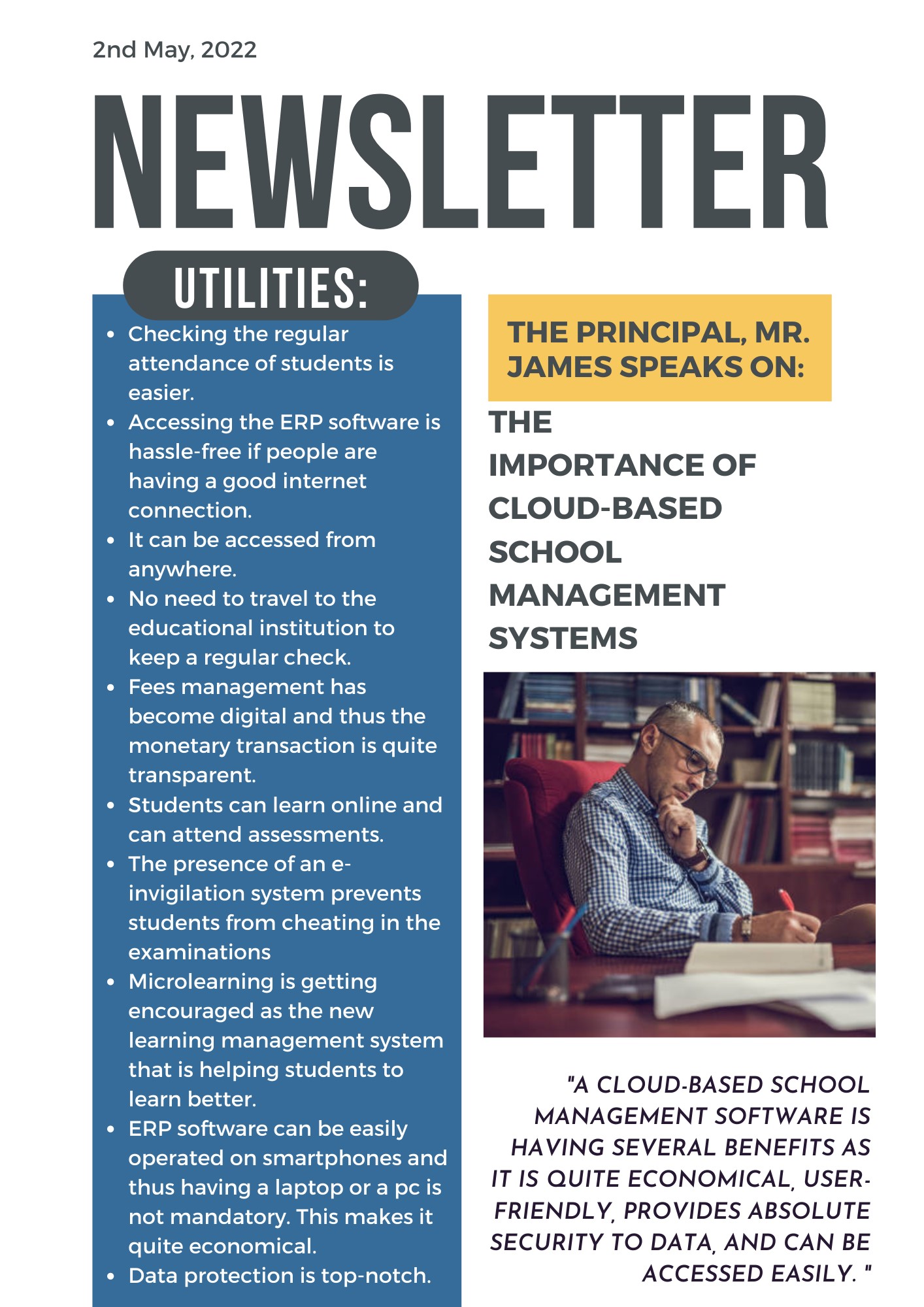 The school clubs are really interesting and they can stunning ideas regarding various events. Covering their activities for a day when an event is upcoming can be a superb newsletter content. Attaching photos or videos with the content and sharing it via e-mail or uploading it on the portal is an awesome approach. This will gear up students who all are waiting for the event and will trigger excitement in others as well.
Since mental health awareness is one of the most sensitive issues of society, an article can be published spreading mental health awareness. Some kids are abimitious these days while others may be facing constant failure. Both of these categories are constantly under stress for achieving the ultimate peak. To calm their nerves, and to help them get rid of stress and constant anxiety, teachers can come forward and share their stories of struggle so that students don't give up. Students spend a good quality of time with teachers and some teachers have counseling abilities as well. They can definitely help students to escape their anxieties.
And it's a pack up!
So that was all about school newsletters and how can school authorities design it and publish it so as to reach everyone related to the school. Having a postgraduate diploma in education management will help school authorities to understand the specific needs of students and school members and address those. School newsletters in whatever format have always keep everyone connect.
If you want to know how education management guides school leaders to take the best decisions, execute a perfect leadership, solve problems, coordinate the entire clan, and so on, call our toll-free number: 1800-212-6400.