Did you know a recent study claimed more than 13,000 jobs will need to be filled in higher education through the year 2028?
Higher educational administration refers to the administration of advanced education institutions, such as colleges and universities. This includes in charge of monitoring the programmes, staff, students, and academic advancement. It is a subject of study and professional activity that recognises the staff members in charge of a college, university, or system's daily operations. The leadership group of a university is referred to as higher education administration.
Lucrative Careers in Higher Education Administration
For individuals who are interested in working in higher education, a graduate degree in higher education administration opens the door to a wide range of professional prospects. You may choose a career path that fits your particular skill set and works with a broad, linked network of experts that share your enthusiasm, depending on your area of interest.
Some administrative positions in higher education are listed below:
Curriculum Coordinator: An institution's teaching standards and curriculum are managed by an instructional coordinator. The creation of instructional materials, planning and carrying out teacher training, and assessing the success of the curriculum are all responsibilities. To make the necessary adjustments, instructional coordinators must be able to gather information, evaluate it, and report their results to teachers and administrators. The majority of instructional coordinators are employed by state or local governments, colleges and universities, professional institutions, and primary and secondary school systems.
Education Administrator in the Postsecondary: Administrators of postsecondary education carry out academic programmes and manage student services at a facility. Their responsibilities may differ depending on whether they work in admissions or the registrar's office. Administrators at admissions offices evaluate college applications, interview prospective students, and make admissions decisions.
Education managers and their employees register students for classes, make sure they are following academic standards, and keep track of institutional data in registrars' offices. Provosts, who assist college presidents in creating academic policy, take part in decisions about faculty appointments and tenure, and manage finances, are professionals who have experience in post-secondary administration.
Professor and Research Associate Dean: The management and supervision of institutionally financed research efforts fall under the purview of professionals who go on to become professors and associate deans of research. This individual helps with academic members to fulfil their research goals by assisting in the coordination of research papers, maintaining research funds, and submitting training grant applications.
They cooperate across schools and departments. Some associate deans of research are also responsible for managing awards programmes, which assist finance new research projects, minor equipment grants, or staff and student travel grants.
Teaching in higher education: Post-secondary instructors, often known as professors or faculty, guide students in a range of academic disciplines after high school. Professors are grouped into departments in colleges and universities that focus on particular degree fields, and they may teach one or more courses there.
In bigger universities, they could spend their time instructing, carrying out experiments or doing research, publishing original findings, seeking funding to finance their research, or managing graduate teaching assistants who are assisting professors in the classroom.
Research scholar: To help an institution carry out a certain research programme, an academic researcher is employed. This position takes part in a range of higher education-related research projects, including collaborative research, managing and publishing individual research, and assessing current research.
Academic researchers are in charge of doing literature reviews, gathering and analysing data, selecting participants for interviews, keeping an eye on the project budget, and creating project presentations and progress reports. Although some academic researchers are able to concentrate completely on research, the position frequently includes a teaching component in colleges and universities.
Student Affairs Dean: The dean of student affairs directs all operations pertaining to student services and campus life and is in charge of developing strategic initiatives for student affairs. The general duties of a dean of student affairs include acting as a point of contact for students, providing as a source of information for students, and attending to their needs.
In a bigger institution, there can be several supervisors of students, each with a particular area of expertise. Orientation sessions for new students or other campus-wide community-building activities may be part of programmes run by the Office of the Dean of Student Affairs.
Admissions Director: In the fields of admissions and recruiting, a director of admissions collaborates with candidates as well as other experts. At the postsecondary level, applicants are assessed based on their academic achievements, extracurricular involvement, test results, and personal references.
They manage all aspects of the hiring process, including the organisation and management of recruitment fairs, campus visits, student interviews, and other admissions activities. Additional responsibilities include overseeing admissions representatives and collaborating with other school executives to create admissions standards and testing procedures.
Director of Enrolment Management: The whole enrolment procedure at a facility is managed and directed by a chief enrolment management officer. Chief enrolment management officers usually offer strategic control for admissions, financial assistance, the registrar's office, and enrolment management and report directly to the president of a college or university.
Furthering academic programmes at a school, improving marketing and communications messaging, spotting potential markets, assisting with student development initiatives, and forecasting short- and long-term enrolment and tuition income are all possible responsibilities.
Types of Advanced Degrees in Administration of Education:
Bachelor's degree holders make up the majority of higher education administrators. That degree is obtained by 60% of administrators in higher education. Master's degrees come in second with 20%, while associate's degrees come in third with 12%. The rate for a high school diploma and other diplomas combined is 4%.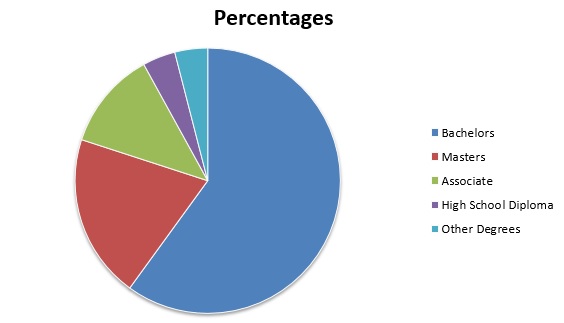 Administrators in higher education who hold a doctorate make $62,650 per year more than those who do not. Higher education administrators with a Master's degree make $54,327 on average per year, compared to $45,258 for those with a Bachelor's degree.
To End With
For professionals in higher education administration who are looking to advance their careers can join the Certificate in Educational Administration & Management. The modern course is being designed for future educational administrators and managers. The course provides the students with the necessary knowledge and training in the many aspects of educational management.
Equipping you with the essential skills and knowledge you need to transform the student experience.
Want to earn your Educational Administration and Management certification? Give us a call at you can reach us at 9830061531 and WhatsApp at 9830061531. Our expert advisor will share all the important aspects of the certification or even online, including the hiring process, salaries, visas, job placement assistance and more!