School leaders' and education managers' major aim is to create a positive school culture. The perception of the school is dependent on the primary fact that how's the culture of that school. Is it good or bad? Every parent would like to send their children where they have heard that the culture is good, right?
So, how to build a positive school culture so your students feel connected?
As a skilled school leader, it's your responsibility to adapt the management of an educational institution from time to time with respect to these three aspects –
Gain parents' trust.

You need to check whether teachers are happy with their roles and responsibilities or need assistance from you.

You also need to keep an eye on your school students to see whether they are in a good mental state and happy while in school.
If these two aspects are in good state then teachers love to teach their subject with enthusiasm, students love to be in school, and they actively participate in every class.
If you want to become a school leader or you already have experience in this position, we recommend you our online post graduate Diploma in Educational Management which will give you a better understanding of how to create positive school culture and how to run a school smoothly in order.
Try These Tested Methods to build Positive School Culture successfully
Without waiting any further, let's get to know how school leaders or education managers can develop positive school culture successfully:
Make Parents Involve in School Culture:
We have often seen parent meetings being conducted at every school just to give feedback about their children; mostly it's been one-way communication. Because only the teacher is stating what are the weakness their child needs to overcome and what are the positives.
Instead of one-way communication why not let parents involve more for the betterment of their children? Try to build a community with every child's parents instead of organizing just parents' teacher meetings. Organize workshops where they can give honest feedback related to the school curriculum, homework, and test.
Ask them if they have any specific kind of expectations or concerns, they have from the school and their teachers, this will earn parents' trust, and make the school system transparent to them as well.
Build a Rewarding Culture for Good Behaviour:
Every student flourish in different fields, some can be good at academics, and some are good at sports, so instruct your teachers to give compliments to every child when required or when they behave well. And as a school leader, you can give appraisal to your teachers which will ultimately build a healthy and positive community in the school.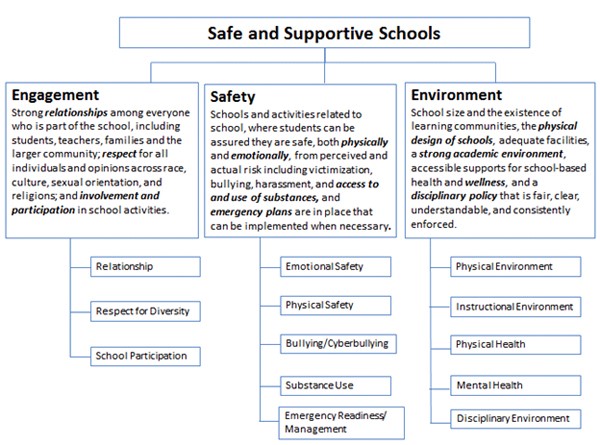 Source: youth.gov

Build Discipline Culture:
We often see that in every school one student has done something wrong and the teacher is ready to punish that student. This method only aggravates the bad behaviour in students more to become more rebellious. This type of management of an educational institution will not create positive school culture.
Instead of a punishment culture, try to build a culture where teachers give students a task that will give them the chance to rectify the wrongdoing, which will make them understand the impact of wrongdoing, and their actions will get replaced with good behavioural acts.
For example - If a student misbehaves with another student, give him or her task to apologize to that student and give both of that student tasks that they will look after for a week, which will ultimately make that student discipline from this example, other students will also learn the lesson.
Organize Extra-Curricular Activities:
Education managers need to make a culture where students are not just only involved in studying the whole daylong. They need to instruct their teachers to organize several extracurricular or fun activities from time to time. Give students the to display their talent to showcase in front of everyone. Teachers can organize events like- singing competitions, debates, drama, several sports events, etc.
It will help students to develop their confidence, self-esteem, team working ability, and decision-making skills.
Make Teaching Innovative:
To build a Positive school culture you need to adapt the management of an educational institution with time. Recently, according to Global Market Insights, Inc. global e-learning industry is expected to hit a remarkable valuation of USD 300 billion by 2025. There is a surge in demand because time is moving towards a technological era, if teachers are still teaching in an orthodox way then it will not hold the attention of students for long.
Have a meeting with teachers about how they can make mundane lessons more interactive and fun for their students. They can involve technology or some games while teaching, which will ultimately make the lesson interesting for students and they will participate willingly in classes.
Final Thoughts
Parents' first concern before sending their children to any school if the culture of the school is good or not. It's the education manager's or school leaders' responsibility to make changes from time to time in the management of an educational institution according to the feedback they get. To build a positive school culture you need to involve parents in your community to build trust, make your teacher take action according to the student's requirements, and build a disciplined culture but at the same time fair to everyone.
To know or learn more, you can explore our recommended online post Graduate Diploma in Educational Management, which will make every education manager capable of running and managing a school successfully.
Looking for earning a post Graduate Diploma in Educational Management certification? If yes then call us at +91-6292150868 or drop a mail at asiancollegeofteachers@gmail.com. Chat with our expert if you have any questions, send us an email to find out more.