It has never been more crucial than now to model effective professional learning that offers voice and choice. Given the complicated combination of skills, knowledge, values, attitudes, and understanding blended with the evolving needs of the learners in terms of cultural, economic, technological, and social changes, voice and choice in professional learning is vital.
By extending this flexibility to the teachers as a part of their professional framework, their judgment can be honored and adaptive skills can be developed and this is when students benefit. Here is how you can make personal development sessions better to increase teacher engagement significantly.
Essential Factors To Consider
To offer voice and choice to your teachers in an effective learning framework, you as school leaders must explore a range of systems, methods, and pathways to advance opportunities for them to improve student outcomes.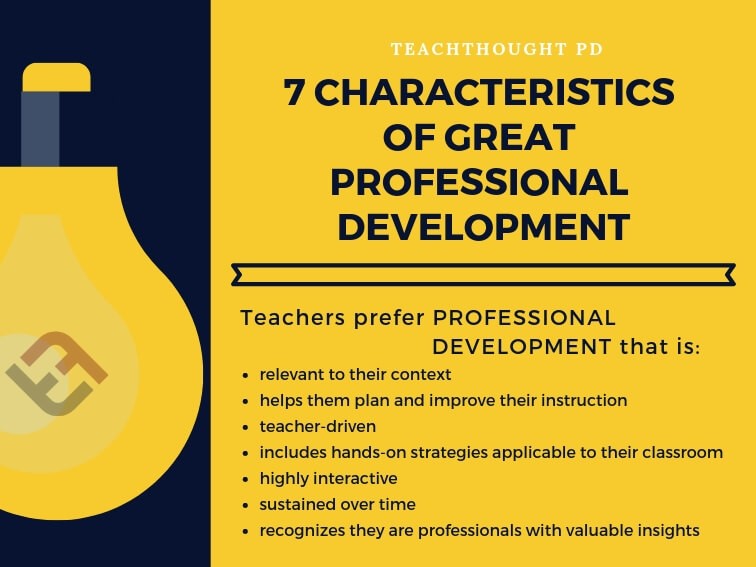 Image Source: teachthought.com
Here are some things to keep in mind:
Promote a culture that offers continuous learning
Set aside a time to listen to and leverage the teacher's voice with regard to professional learning
Involve teachers in planning, selecting, and implementing professional learning choices
Schedule time for teachers to share their outcomes
Align the learning choices of the teachers with the institute's improvement plans
Extend professional learning choices to address teachers' aspirations and development areas
Prioritize quality over quantity when it comes to offering choices
Determine if this framework will allow both collaborative and independent learning
Common Pitfalls In Designing A Voice And Choice Professional Development Program
One-size-fits-all is a challenge for even the most dedicated teacher as the complexities of implementing voice and choice in professional learning are directly proportional to the complexities of the learners.
Some of the most common pitfalls circling voice and choice professional learning programs are as follows:
The provider and the learner do not share the same vision
Promotion of fixed mindsets over growth mindsets
Promotion of passive learning culture over active learning
Lacking passion and commitment toward functional school culture
Limiting choice assuming that progression of professional learning is necessary
Offering too many choices and too many opportunities to voice opinions
3 Steps To Design A Fail Proof Personal Development Framework
Follow these steps to curate a program that meets the needs of your educators:
Ask For Feedback

Most schools are currently focused on learning more about inclusive practices and a recurring theme in this practice is the importance of student feedback. As school leaders, you should also be committed to modeling the importance of learner's voice by asking staff for their feedback.

After the end of each session, offer employees a survey with the goals of the session and also ask them to rate the session on whether the objectives are met. Also, ask them to share what worked for them, and at the end of the survey form provide a space to pose their questions if any.

Complete The Feedback Loop

Employers have been asking for feedback for years but they are missing the most important part which is not sharing how the feedback impacted the design of the subsequent sessions. To address this, share the feedback form of the previous session at the beginning of the current one and explain how it impacted your work.

Furthermore, present a slide showing what you learned from your participant's feedback and what you have done differently or kept the same upon receiving feedback. You can also allot time towards the end of the session to complete the next feedback survey.

Accept The Power Of Reflection

An essential element of learning is the power of reflection. As school leaders, you must realize that there is no point in just creating sessions and rolling through them. After the end of every session, there should be a self-reflection process. You must be ready to rework questions as there might be questions that do not align with your employee's goals.

You need to figure out what your teachers are thinking and focus on actionable feedback strategies. Once you start using employee feedback to guide your planning, you will notice significant changes in the sessions as there will be a sense of shared ownership.
Create Future-Ready Teachers
Professional learning is a field open to all individuals. Just as you want your classes to be student-centered, your professional development program should be teacher-centered. Your staff has the same developmental needs as your students and hence they need the same engagement and interest factor while learning. Contribute to designing their learning experiences by pursuing a Certificate Course in Educational Administration and Management and make them feel listened to and valued.