As we are living in a fast pace world where the use of digital technology has been increasing day by day. Almost everyone in today's digital age you will see that most of their time they're using social media.
Social media has become second nature for every individual out there because it has revolutionalized the way we connect with others, communicate, and even the way we use to share information as well. It has opened lots of opportunities for everyone even for school leaders to market their independent schools and create a brand around it.
Nowadays, marketing of independent schools is not just an option, but it's become a necessity. According to one of the surveys of socialpilot.co, it has been found that most of the schools started to focus on marketing aspects, and 62% of the school completed their brand positioning and 92% of the schools also developed certain kinds of messages which reflect their brand.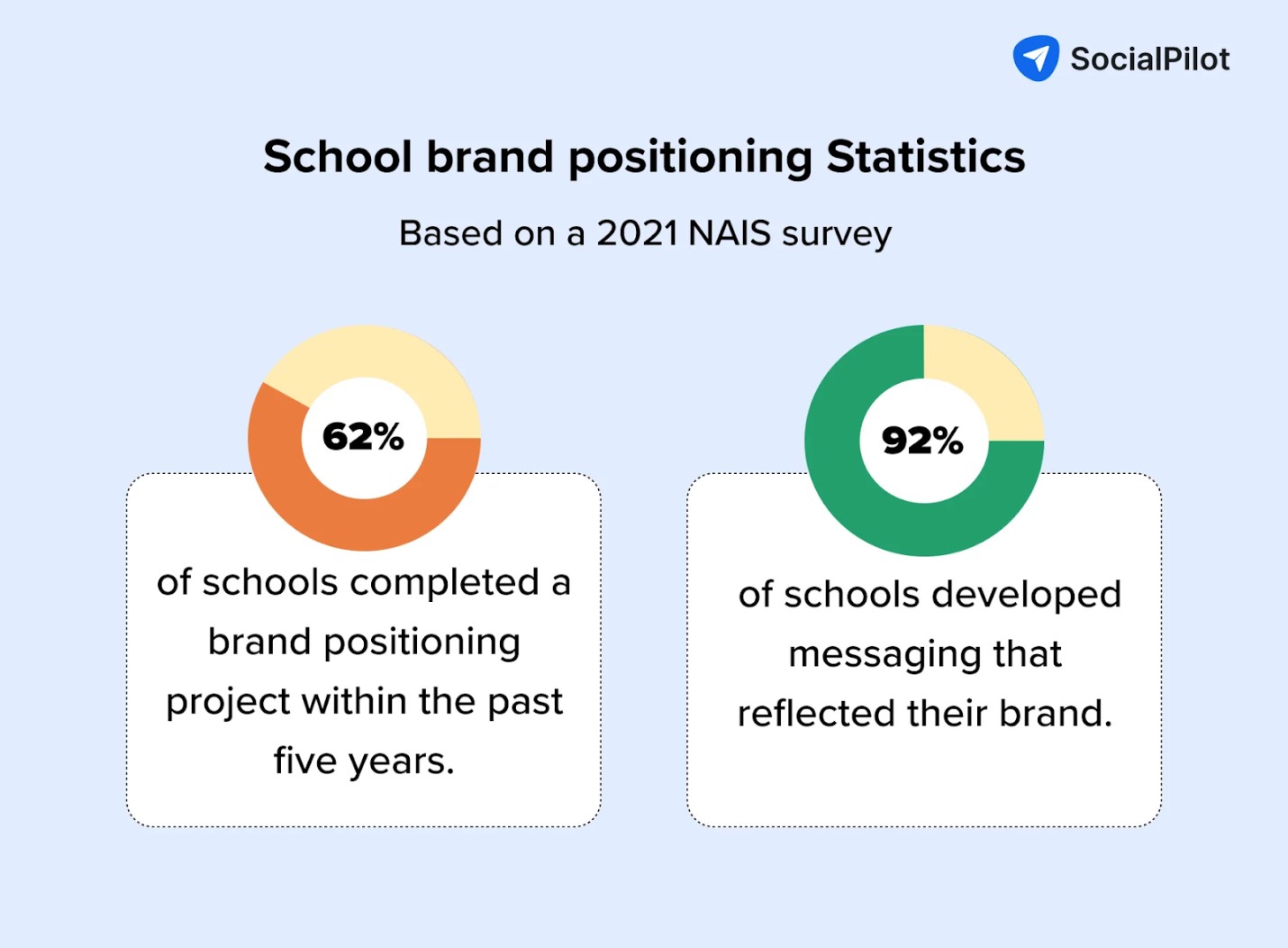 Source: socialpilot.co
With the right social media strategy, independent or private schools can market themselves effectively, attract and gain the trust of prospective parents, engage with parents, and build an impactful presence online.
In this blog post, you will get to know how you can build a strong online presence and what Key Elements of a Social Media Campaign for School Marketing you need to keep in mind while creating the social media strategy.
So, without any further delay, let's get started!
Why Creating a Social Media Presence is Necessary For Every Independents School?
In today's competitive world, it's very necessary to build a solid social media presence to stay ahead of other schools. However, there are many Key Elements of a Social Media Campaign for School Marketing you need to keep in mind to create a well-designed effective social media strategy that will help in creating social media brand.
By creating a social media presence, independent schools can reach their target audience, interact and engage with potential students and parents and showcase their unique school offerings. Social media presence not only helps to create or enhance existing brands but also helps to create a community of parents, students, and alumni by gaining their trust.
Additionally, with social media platforms independent schools can effectively communicate their mission, vision, values, achievements, and knowledge to a wider audience.
7 Key Elements of a Successful Social Media Campaign for School Marketing
1. Understand Your Target Audience
The first and foremost important key element is to know your audience which is parents and their children in the case of independent schools. Understanding what motivates parents is essential for crafting a compelling social media strategy. Parents are primarily concerned about the quality of education, safety, extracurricular activities, and overall well-being of their children.
If social media posts revolve around these aspects with a mix of engaging and informative content then every independent school can grab the attention of the target audience easily.
Additionally, sharing of success stories of students in both academic and extracurricular activities will also gain the trust of parents and increase the credibility rate of the school as well.
2. Choose The Right Social media Platform
Not all social media platforms are created equal, and it's important to choose the ones that align with your school's target audience and objectives. Facebook, Instagram, Twitter, LinkedIn, and YouTube are popular platforms that can be utilized effectively for school marketing.
Below you can get an idea of which platform will help you to reach your audience and can help you to showcase your vision and mission.
Facebook allows us to reach a wider audience but it's specialty is you can focus on the targeted audience as well

Generally, Instagram is visually appealing and you can showcase school environment posts

Twitter and LinkedIn platforms are great for professional networking and you can reach out to alumni

YouTube can be used as a platform where you can post engaging long-form videos, related to virtual campus tours or interviews with teachers and students
3. Plan On How To Brand
Proper branding and maintaining consistency is one of the important Key Elements of a Social Media Campaign for School Marketing to implement and it is very crucial for creating a strong and recognizable identity for your school. Ensure that your social media profiles, posts, and visuals are aligned with your school's brand guidelines.
You need to focus on creating a unique identity for your school by using a unique logo, and particular fonts and colours during creating your posts which will ultimately help in building brand awareness and at the same time maintaining uniqueness.
Additionally, you must focus on posting on different platforms to maintain consistency which will ultimately gain the trust of the target audience and it will improve credibility as well.
4. Post Related To School Environment
One of the best ways to gain the attention of the parents and student's private school leaders is to showcase the school environment by capturing it and posting it on social media. You can showcase the campus life, teaching facilities, classroom experiences, etc. You can capture photos and short videos of students participating in various school activities, extra-curricular activities, or field trips as well and share them on social media.
5. Introduce Teachers & Alumni in Social Media Posts
Parents often place great importance on the quality of teachers and the success of alumni when considering a private school. Introduce your dedicated faculty members through social media posts, highlighting their qualifications, teaching methodologies, and commitment to student success.
Share success stories and achievements of alumni to demonstrate the impact of your school's education. By showcasing the expertise and accomplishments of your teachers and alumni, you can build trust and confidence among parents, reinforcing the reputation of your school.
6. Build a Online Community
Social media provides a unique opportunity to build a thriving and engaged community around your school. You can create dedicated groups or pages and give parents, students, and alumni the opportunity to join it and encourage them to share their experiences and feedback or they can even discuss as well.
You can organize Q&A sessions with teachers and alumni, conduct virtual workshops, and panel discussions on relevant educational topics where every member can share their opinions freely and ask questions as well. This will create a strong community and strengthen the relationship with the school's major stakeholders and with every school member as well.
7. Monitoring and Measuring the Success of Your Social Media Campaign
Monitoring and measuring the success of your social media campaign is crucial to determine the effectiveness of your efforts and make data-driven decisions. Utilize social media analytics tools to track key metrics such as reach, engagement, click-through rates, and conversions.
Monitor the performance of individual posts and campaigns to identify what resonates most with your audience. Analyze the demographics and interests of your followers to refine your targeting strategies. Regularly review and adjust your social media strategy based on the insights gained from data analysis.
The Power of Social Media Marketing for Private Schools
In today's generation, the usage of social media has been increasing day by day and this opens the door to many opportunities for everyone who wanted to create a brand online. Those school leaders of Private schools who have pursued courses like Certificate in Coaching & Mentoring knows how to take advantage of this digital era and use social media platform to create brand awareness of their school and gain parent's attention and trust.
However, one must know the Key Elements of a Social Media Campaign for School Marketing to market the school brand better, and the above-mentioned easy-to-follow steps to create a brand around school can help those school leaders who wanted to take their school to the next level.


Find the right course for you and try out the course. WhatsApp us at +91-6292137532. You can also mail us at act@asiancollegeofteachers.com