Management of a school is considered to be one of the most complicated tasks which requires efficient administrators, effective communication, and proper streamlined processes. In this digital world, every sector must know how to leverage today's advanced technology which could help to revolutionize the management of school and of the technology is school management software.
According to semidotinfotech.com one survey, it has been found out that school management growth is significantly rising every year.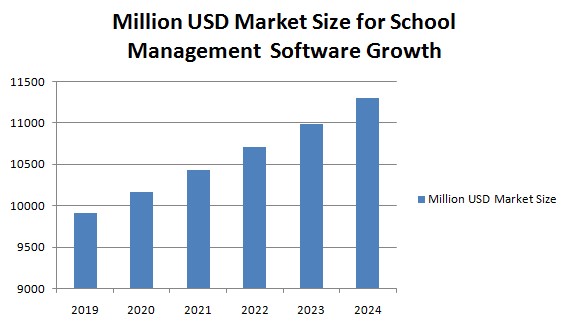 Source: semidotinfotech.com
Those school leaders who have pursued courses like Certificate in Educational Administration and Management, knows very well how to take advantage of new-era technology for the overall growth and betterment of the school.
However, in this blog post, we will explore the various benefits of implementing school management software and how it can transform the way educational institutions operate.
Before moving to the topic, can we ask you a question? Do you follow us on Social Media? We regularly share upgraded educational content, tips, feedback, and more. Check us out by clicking the profiles here - Facebook / Twitter / LinkedIn / Pinterest / Instagram / YouTube
So, without any further ado, let's get started.
What is School Management Software?
School Management Software is the kind of technological solution that helps in automation and digitalizes various administrative and academic processes in any educational institute where it has been used.
It involves the process of- attendance, grades, fees, library, transportation, and many more. It also offers a user-friendly interface and powerful features as well with which school leader can grow their school to the next level.
Now, let's get to know some benefits of using school management software.
9 Benefits Of Using & Implementing School Management Software
1. Time-saving Efficiency
One of the primary benefits of implementing school management software is its ability to save time for teachers, administrators, and staff. Manual tasks, such as creating timetables, recording attendance, and passing along messages to parents, can be automated through the software.
This automation not only eliminates the need for laborious manual work but also reduces the chances of errors and discrepancies. With more time freed up, educators can focus on their core responsibilities of teaching and nurturing students.
2. Streamlined Human Resource Management
Managing the human resources of a school can be a daunting task. However, school management software simplifies this process by providing a dedicated HR module. This module enables administrators to efficiently handle tasks such as employee payroll generation, leave management, and new employee admissions.
By automating these functions, the software ensures accurate and timely processing, minimizing administrative burden and ensuring smooth operations.
3. Efficient Time-table Routine Generation
Creating and managing multiple timetables manually can be a time-consuming and error-prone task. School management software simplifies this process by automating timetable generation. By leveraging various computer functions, the software optimizes the allocation of classes, subjects, and teachers, considering various constraints and preferences.
This not only saves significant time and effort but also ensures more balanced and efficient timetables for students and staff.
4. Seamless Communication
Effective communication between schools and parents is crucial for the success of any educational institution. School management software facilitates seamless communication by providing integrated communication apps or platforms.
These apps allow schools to send short messages, updates, and important information to multiple parents simultaneously. This eliminates the need for manual communication methods and ensures that parents stay informed and engaged in their child's education.
5. Comprehensive Student Data Management
A student's journey in a school involves a multitude of data, ranging from admissions and grades to attendance and extracurricular activities. School management software streamlines the collection and storage of this data by providing a centralized database.
Each student's information can be easily recorded, organized, and accessed whenever required. This comprehensive data management not only simplifies administrative tasks but also provides valuable insights for academic planning and decision-making.
6. Simplified Examination Result Management
Managing examination results can be a tedious and time-consuming process. School management software simplifies this task by automating the generation of grade books and result logs. The software allows teachers to update assessment schedules and upload results, which can be accessed by parents and students through the school's platform or app.
Moreover, the software can automatically generate grades based on the marks or percentages entered, making the result calculation process efficient and error-free.
7. Hassle-free Fee Collection
Collecting fees and maintaining fee records is a critical aspect of school administration. School management software simplifies this process by enabling digital fee collection. The software integrates with various payment gateways, allowing parents to pay fees online without physically visiting the school.
Additionally, the software can track pending fees and fines, ensuring timely payments and accurate financial records.
8. Data-driven Decision Making
School management software generates various reports and analytics that provide valuable insights into the school's efficiency and functioning. These reports can be utilized by teachers and administrators to make informed and data-driven decisions.
From academic performance to attendance trends, the software offers a holistic view of the institution's performance. By integrating reports from different modules, administrators can gain a comprehensive understanding of the school's overall performance.
9. Effective Budget Management
Managing the school budget is essential for financial stability and sustainability. School management software includes a financial module that helps administrators create realistic and affordable budgets based on historical data and calculations.
The software also assists in monitoring and managing the allocated budget, providing alerts about excess spending or insufficient cash flows. This enables school leaders or administrators to make informed financial decisions and ensures the optimal utilization of resources.
Use of School Management Software is a Game Changer
In this advanced digital era, every sector must be able to leverage technology for their organization's benefit. In the education sector, school management software is a tool that can revolutionize the education sector and it will also help in the overall growth of schools.
Those school leaders or any administrators who have pursued courses like Certificate in Educational Administration and Management know very well the power of using school management software and how it can help to track the progress of students to maintain every data of school. In this blog post as well, we have mentioned many benefits of using school management software with which you can take your school to the next level.
So, start using school management software and grow your school to the next level!

We believe education should be accessible for everyone. That's why we don't charge for our blogs. Find the right course that will help you in your career with us, contact us at - +91-6292137532. You can mail us at act@asiancollegeofteachers.com