It might often get daunting to choose the right path that aligns with your professional and personal goals out of all the careers in ed management options available out there. However, a degree in educational administration and management can help you gain the knowledge needed to best set up systems and processes that will enable students to become successful.
What Is Educational Administration And Management?
An education administration and management course is a specialized program designed to equip individuals with the knowledge and skills necessary to lead and manage educational institutions effectively. Geared toward aspiring educational leaders, such as principals, superintendents, and school administrators, the course provides a comprehensive understanding of the complex challenges and opportunities in the field of education.

Source: researchgate.net
The curriculum of an education administration course typically covers a broad range of topics, including educational leadership theories, organizational management, curriculum development, budgeting and finance, policy analysis, human resource management, and legal aspects of education. Participants learn how to foster a positive and inclusive learning environment, promote student success, and collaborate with diverse stakeholders to enhance educational outcomes.
Through case studies, practical exercises, and real-world experiences, students gain insights into decision-making processes, problem-solving, and conflict resolution within educational settings. The course also emphasizes the use of technology in education administration to enhance efficiency and communication.
Hey, do you follow us on Social Media? We regularly share upgraded educational content, tips, feedback, and more. Check us out by clicking the profiles here - Facebook / Twitter / LinkedIn / Pinterest / Instagram / YouTube
5 Areas Where Educational Administration Degree Is In High Demand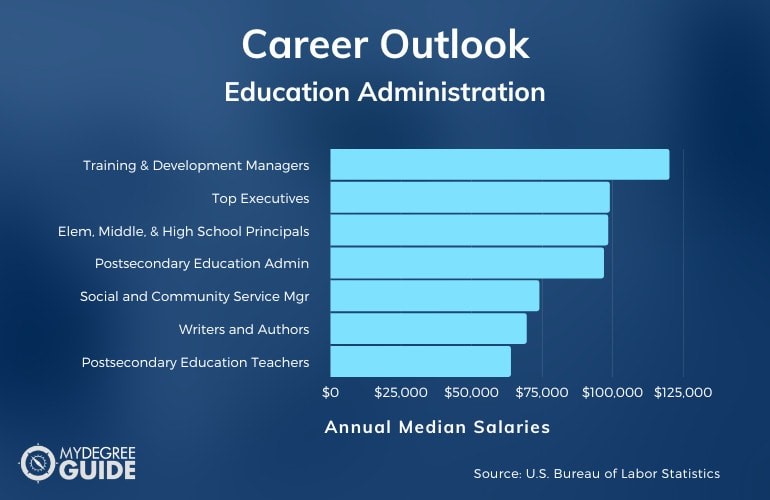 Source: mydegreeguide.com
If you are wondering what you can do with an Educational administration and management degree, here are some job roles you can take up:
Paraeducator

A paraeducator plays a crucial role in the educational development of students with special needs. Their primary responsibility is to support these students within the classroom setting, providing them with the necessary assistance to thrive academically. This may involve supervising students, helping them with tasks, and preparing relevant learning materials. Working closely with teachers, development programs, and agencies, paraeducators ensure that students receive the appropriate tools and resources for their success.

The average annual salary for paraeducators in the United States is approximately $40,553. However, the true value of their work goes beyond monetary compensation. Paraeducators contribute significantly to creating an inclusive and supportive learning environment that fosters the growth of every student.

Admissions Counselor

An admissions counselor serves as a vital link between prospective students and colleges or universities. Their primary duty is to recruit new students, introduce them to the institution's offerings, and guide them through the application process. Attending college fairs and providing information to both students and parents are integral components of their role. Additionally, they may conduct campus tours to give potential students a firsthand experience of campus life.

Working closely with the administration office, admissions counselors review incoming applications, verify applicant materials, and assist in making final admissions decisions. Their efforts help shape the incoming student body and influence the future of the educational institution. The average annual salary for admissions counselors is around $43,573, reflecting the significance of their contribution to the enrollment and growth of educational institutions.

Academic Adviser

Academic advisers are dedicated to supporting students in their educational journey. Their primary focus is to guide students in making informed decisions regarding their course selections and future career goals. They assist students in enrolling in the courses necessary for graduation and may guide opportunities such as study abroad programs.

By offering students the information they need to succeed academically, academic advisers play a pivotal role in helping students achieve their potential. Depending on the institution's structure, academic advisers may specialize in working with freshmen, transfer students, or those on academic probation. The national average salary for academic advisers is approximately $43,204, reflecting the value placed on their expertise in student guidance and support.

Admissions Counselor

As mentioned earlier, the role of an admissions counselor is instrumental in attracting prospective students to educational institutions. Their responsibilities encompass attending college fairs, disseminating crucial information about applications and campus life, and organizing recruitment programs.

Working closely with the administration office, admissions counselors also participate in the critical process of reviewing applications, verifying materials, and finalizing admissions decisions. With an average annual salary of around $43,573, admissions counselors' commitment to attracting talented students to their respective institutions is well recognized.

Financial Aid Coordinator

Financial aid coordinators have a significant impact on student's ability to pursue higher education. Their primary responsibility involves overseeing the distribution of grants, loans, and payment plans, all of which are vital financial resources for students.

Based on their institution's protocols, financial aid coordinators determine students' eligibility for various financial aid options. By compiling data and assessing students' needs, they can provide valuable advice on available financial aid opportunities, ensuring that students can access the support they need to achieve their academic goals. The average annual salary for financial aid coordinators is approximately $45,129, reflecting the critical role they play in facilitating access to education for students from diverse backgrounds.
Find Your Perfect Fit
There are diverse career opportunities within education and student support services that require a dedicated and skilled workforce committed to enriching the lives of students and contributing to the growth of educational institutions. While each role serves a unique purpose, they all share a common goal – to empower students to succeed academically and pursue their dreams. If you have an inclination towards management and leadership goals, you should first avail yourself of a Certificate in Educational Administration and Management to understand the job position and its typical responsibilities.


Find the right course for you and try out the course. WhatsApp us at - +91-6292137532. You can also mail us at act@asiancollegeofteachers.com