Parent figure is one of the most important entities in every child's life that only helps their children to thrive academically but also helps in shaping the life of their children for the better.
Every school leader knows the fact that the involvement of parents in every child's life is essential which helps them to perform well in their academics and at the same time also helps in the overall growth of the school.
However, according to researchgate.net, a very low percentage of parents are involved in school activities.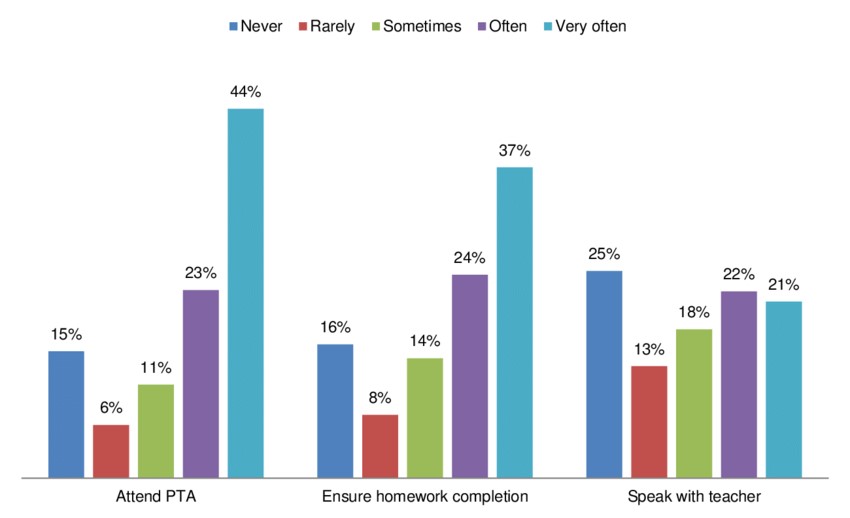 Source: researchgate.net
In this blog post, we will get to know some of the effective strategies Strategies for Schools to Improve Parent Engagement by fostering meaningful communication between parents, teachers, and school administrators, which not only improves a child's performance in school but ultimately also helps to grow the school to the next level.
Before moving to the topic, can we ask you a question? Do you follow us on Social Media? We regularly share upgraded educational content, tips, feedback, and more. Check us out by clicking the profiles here - Facebook / Twitter / LinkedIn / Pinterest / Instagram / YouTube
So, without any further delay, let's get started.
Importance of Parent Involvement
Many research studies show that parent involvement significantly contributes to a child's academic achievement and social well-being. When parents actively participate in their child's education, students are more likely to excel academically, exhibit better behaviour, and have higher self-esteem.
Additionally, it has been observed that parental engagement plays a role in reducing dropout rates and enhancing academic completion rates for students across different socio-economic ethnic, and racial backgrounds. It is clear that establishing collaboration between parents and schools is vital for ensuring a child's educational achievements.
Strategies for Schools to Improve Parent Engagement
Schools should implement strategies to actively involve parents in their child's education. Here are some effective approaches to enhance parent's engagement-
1. Encouraging Volunteer Programs
Organizing volunteer programs enables parents to directly participate in school activities and interact with the environment of their children. Parents can contribute by assisting with sporting events, class excursions, and other special school initiatives. Through volunteering, parents can gain an understanding of their child's education establish rapport with teachers, and seek guidance on supporting their child's academic progress.
2. Facilitating Home Visits
Occasional home visits by teachers provide an opportunity to develop connections with parents while gaining insights into the student's home environment. Home visits help build trust allowing teachers to better comprehend the needs and challenges of the student while also giving parents a space to express any concerns they may have. These visits foster relationships, between parents and teachers creating a collaborative partnership focused on the success of the child.
3. Encourage Involvement in Home
Encouraging involvement in a child's education can be accomplished through activities at home that foster collaboration between parents and children. Teachers can create exciting tasks that promote teamwork and cooperation among parents and their children. These activities should be enjoyable and brief.
Offer valuable learning opportunities, outside the confines of a traditional classroom environment. By involving parents in homework-like tasks, schools promote active parent engagement and reinforce the importance of education in the home environment.
4. Leveraging Social Media for Parent Engagement
Social media platforms offer tools to establish connections with parents and promote engagement. Schools should develop a planned social media strategy to effectively communicate with parents and share important updates, accomplishments, and upcoming events.
By utilizing platforms such as Facebook, Instagram, and Twitter schools can reach a broader audience while building an online community where parents can seek guidance discuss educational matters, and stay connected with the school.
5. Recognizing Parental Involvement
To maintain the involvement and enthusiasm of parents, schools should celebrate and acknowledge the valuable contributions parents make towards their children's education. Alongside communicating news and achievements, schools can organize appreciation events or awards ceremonies to honour active parent participation.
Showing and making parents feel special for getting involved in school activities, will ultimately give more motivation to parents for getting more involved in their children's academic life.
Every School Leader Should Focus on Improving Parent's Engagement With School
Parents is one of the key entity in every student's life which not just help them to thrive academically but in their life as well. Those school leaders who have pursued courses like the Certificate in Educational Administration, Management & Leadership Program knows it really well and they immediately try to involve parents in school activities which improves every student's performance.
With the above-mentioned Strategies for Schools to Improve Parent Engagement in this blog post, every school leader can help every student to perform better, which will also help to achieve the end goal which is the growth of the school as well.

We believe education should be accessible for everyone. That's why we don't charge for our blogs. Find the right course that will help you in your career with us, contact us at - +91-6292150868. You can mail us at act@asiancollegeofteachers.com