Online admissions have numerous benefits for educational institutions as it allows them to efficiently manage their students' admission process in real-time. With such tools, the situation would be a maze of interviews, calls, back-to-back emails, and follow-ups.
Proper admission management software can benefit both the institution and the students. If you have just completed a 2-Day Education and Institutional Leadership Program for Teachers and are new to this whole scenario, read on to explore some of the crucial features that make admissions management software a valuable asset for institutions in today's digital age.
What Is Admission Management Software?
Admission management software is meant to assist in streamlining the admission process. educational institutions use this software to handle enrolment and student admission processes online. With this, parents and students do not have to wait in queue for hours to access the institution. They can just use this to submit an online admissions inquiry and the concerned admission official will reach out to them.
Top 5 Features Of Admission Management Software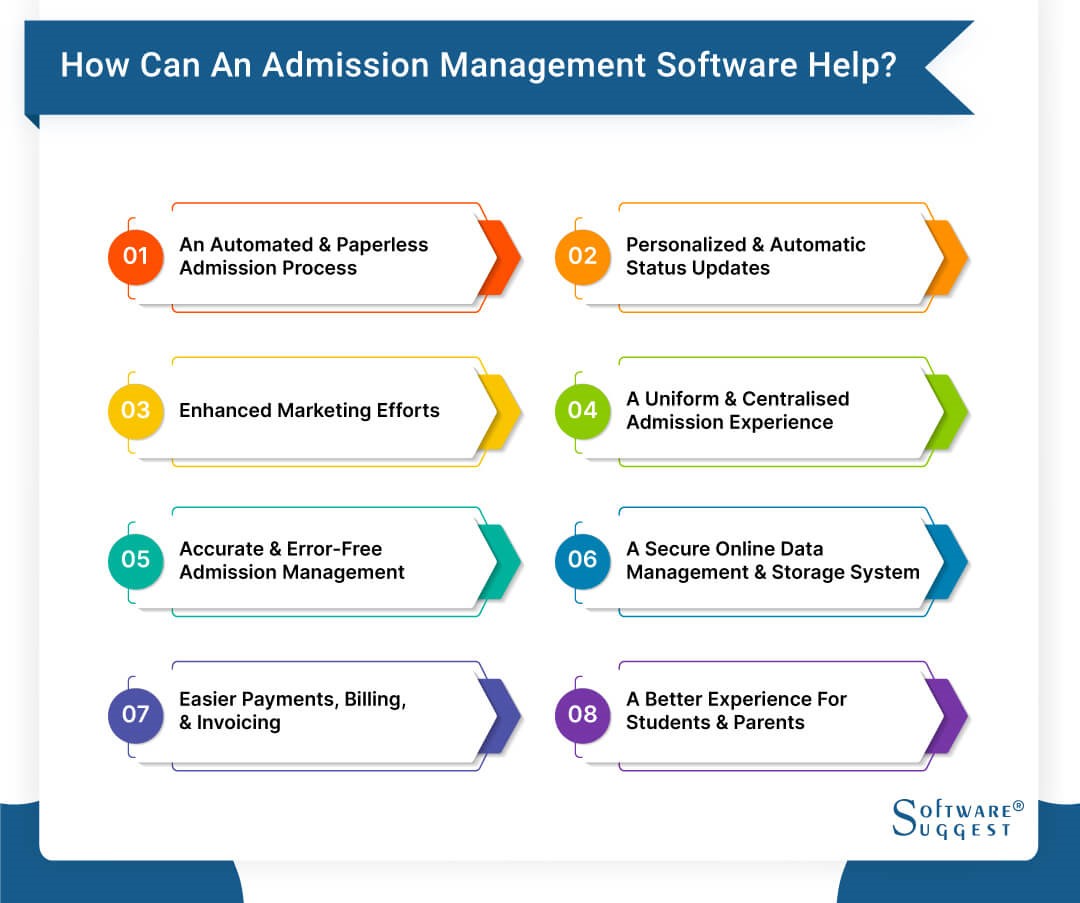 Source: softwaresuggest.com
Here are some of the good features of admissions management software to make the process easy:
Multi-Channel Enquiry Management

In an increasingly connected world, prospective students often inquire about courses and faculty through various channels and formats. These channels can range from traditional in-person inquiries to online submissions and social media interactions.

Admissions management software must possess the capability to consolidate and organize these diverse data points coherently. Real-time access to this information is paramount as it enables admissions staff and counselors to respond promptly to inquiries, thereby maximizing the chances of converting prospects into enrolled students.

Automated Communications

One of the cornerstones of modern admissions management software is automated communications, often referred to as marketing automation. Timely and well-orchestrated communication with student prospects not only enhances the application experience but also boosts the institution's brand credibility.

Admissions software allows institutions to create and schedule drip email campaigns, SMS notifications, and other forms of digital communication. Additionally, it can facilitate the planning and execution of digital marketing and social media campaigns, ensuring that branding and communication efforts are carried out effectively.

Hey, do you follow us on Social Media? We regularly share upgraded educational content, tips, feedback and more. Check us out by clicking the profiles here - Facebook / Twitter / LinkedIn / Pinterest / Instagram / YouTube

Lead Scoring

Lead scoring is a feature available in most admissions management platforms that aid in identifying the level of interest demonstrated by prospective students. This feature ranks and qualifies leads, enabling institutions to prioritize and funnel them into appropriate workflows without requiring manual intervention.

The assessment of interest is based on various online behaviors such as website page visits, clicks, search terms, and more. By utilizing lead scoring, institutions can focus their resources on prospects who are more likely to enroll, thus optimizing their recruitment efforts.

Counselor Assignment and Productivity

A seamless admissions experience hinges on the responsiveness of academic counselors in addressing inquiries and guiding prospects through the enrollment process. To facilitate this, admissions management software should provide timely notifications to counselors and recruitment divisions regarding incoming applicants.

These notifications should also include the prospects' positions in the enrollment funnel. Institutions can further improve counselor productivity by allocating cases based on existing capacities and setting early alerts to bolster staffing levels when there is a surge in student interest.

Fees Management and Document Verification

Effective management of fees and document verification processes is another vital aspect of admissions management. Admissions software simplifies the payment process by enabling minor fee payments through secure payment gateways, reducing the need for parents and students to visit the admissions office in person.

Furthermore, it allows for the efficient handling of paperwork, which can be submitted and verified electronically. The software can also generate reports on the most popular course preferences among students for a specific academic year, aiding institutions in making data-driven decisions.
Utilize The Game-Changing Software To Ease Admissions
As the education sector continues its digital evolution, the challenges associated with admissions management are becoming more manageable. If you are still not familiar with such software, consider pursuing a 2-Day Education & Institutional Leadership Program for Teachers and school leaders to thrive in a competitive landscape. Such software equips educational institutions with predictive tools and real-time insights that empower decision-makers and staff to engage with prospective candidates efficiently.

We believe education should be accessible for everyone. That's why we don't charge for our blogs. Find the right course that will help you in your career with us, contact us at - +91-6292150868. You can mail us at act@asiancollegeofteachers.com