Importance of Good
Parent Teacher Relationships
Does a positive parent-teacher relationship matter?
How can someone be sure that a child is getting the quality education he/she deserves?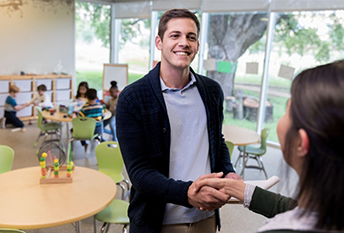 A child's academic accomplishment is enhanced significantly when teachers as well as parents are partners in the development. Educators and parents, both convey a significant emotionally supportive network to help students to thrive. Thus, a positive parent-teacher partnership is really critical. Here, teachers usually can find steps to reinforce their relationships with their parents.

In the present circumstance, communication plays a massive role. One of the ways to parents and teachers working collectively is to have good communication. Well, the parent-teacher relationships work well only if a teacher puts the genuine effort to respond to a child's concerns and questions. When a partnership approach between parents and teachers is apparent, the child establishes better social assistances with less behavioural difficulties.
Consider these ideas for refining connections with this parent-teacher association:
Shaping A Comprehensive Student Info Sheet
Gather a portion of the essential data of your students like name of students and guardians, address, numbers for home, workplace, email addresses if suitable. Attempt to keep a running list of dates on which you have contacted parents or the other way around. This sheet is very crucial to have. By and by, this may sound time-consuming, but the data will demonstrate to be tremendously helpful at any parent meeting.
Contact Parents Frequently
Try to update the progress of the child to parents routinely through calls, messages or emails. By doing this, parents will also be happy and they will be updated as well. This will help in building a decent and reliable connection with parents. You can incorporate them while arranging a certain lesson for the child, as they are the ones who deal with the child directly, they can uphold you a ton. Convey frequently and in different forms. Provide information about what's going on in your class, what learners are learning, what they've skilled and so on.
Welcome Parents to Take Part
You may distribute an overview at the beginning of the year. Try to find out what parents know about the child and what assistances they have. Let them share with you their social traditions, comforts, passions, interests, abilities, and so on. Tell parents how they can help. They know a whole lot about their kid so try to tune in. Let them know that you want to work with them, appreciate their support, and look forward to working together.
Be Resourceful
Attempt to point them in the correct direction where they can find to discover when parents come with questions to you. While sharing an apprehension, be prepared to recommend resources along with the reading tools, be resourceful enough. Welcome their support, give them the data about the kid that will assist them with framing an opinion, listen to their inferences.
Three C's
If you can include three principle segments, addressed as the "3Cs" then the partnership will become most powerful. Here the 3Cs means –

1. Communication
2. Consistency
3. Collaboration

Here the communication stands for the communication between home and school. The finest kind of communication is open, clear, productive and appropriate.

Consistency is the second segment of a successful parent-teacher relationship. Indeed, this generally includes opportunities as well as experiences that you deliver at home to support a child's learning.

Collaboration gets simpler if communication is regular. Coordinated effort creates opportunities for a child's learning reliably. Arranging and problem-solving are arrangements of collaboration, and will be significant particularly when your kid needs additional support to reach a goal.

As a 21st-century teaching professional, you need to identify and understand where the communication breakdown begins. Start from a place of compassion and understanding. Well, it's critical for primary school teachers to perceive the contributions of the parents and express much appreciated.

The major establishment of effective communication with parents starts with trust. It's important for parents as well to confide in their child's teacher. As a teacher, while speaking to parents, try to assure them that everything you discuss is private to foster a sense of faith.

Indeed, parents and teachers both are exceptionally occupied in nature; therefore, hence, try to utilize innovation to stay in touch at whatever point conceivable. Sending Emails is a great option here. However, not all parents have access to technology or innovation…you may contact them in-person or in other ways. Every child has qualities that are deserving of being recognized. Consequently, a strong and positive parent-teacher relationship is necessary.